RefCam with Karen Fong – Women's National Team 2012 Elite Rugby Camp
Posted by SCRRS Website Committee on July 13th, 2012
Check the video press release from USA Rugby at the USA Women's Elite Rugby Camp, and our own Karen Fong refereeing with a RefCam strapped on her. Pretty cool stuff!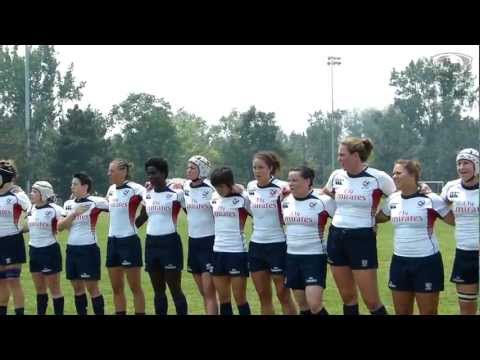 The largest player assembly in USA Women's Rugby history concluded Sunday with the Eagle Whites team securing the Elite Performance Series title by virtue of a single bonus point. The Whites were forced to score an 81st-minute try to bring the score line to an even 17-17 against the Eagle Reds team. The series was part of a camp to develop the Women's National Team (WNT) talent pool.
The tie was just enough to give the Whites team an edge in the overall standings, with the Reds finishing in second place. The Eagle Blues team finished third, earning their first victory of the week against the Collegiate All-Americans with a score line of 76-12.
The camp was held on the campus of the University of Northern Colorado in Greeley. The support of university's facilities, UNC Men's Rugby Head Coach Mark Smith, and his staff, provided the players with what Steinberg characterized as "the best high performance environment they've ever had."
"The UNC staff members were incredible and their rugby team made everything work," said Steinberg. "Without their help this could not have happened. We hope that this is the start of a strong relationship between the Women's Eagles and UNC."
A pool of approximately 40 players will be selected from this camp to fill the roster for the Eagles upcoming European tour. The players selected will work directly with the WNT staff over the coming months to prepare them for the test series. The players who aren't selected will be assigned to work with the elite development coaches, with the goal of returning next summer with the skills they need to make the team.
Women's Eagles Head Coach Peter Steinberg was pleased with the results of the week-long camp and competition. "The goal was to create an international-like competition for players to show their skills," Steinberg said. "It was a great week of rugby that just got better each match day. The last game between the Whites and the Reds was the highest level of domestic rugby I've seen played on U.S. soil."
"The high level of competition will prove to be invaluable for those athletes selected to move forward with the national squad," said Eagle Flanker Lynelle Kugler. "It will also help to increase the level of women's college and club rugby."
The players weren't the only ones who benefited from the high performance environment. During the camp, Steinberg and his staff mentored six elite coaches and two referees who had been brought in to work with the teams. The WNT staff reviewed game video, practice sessions, game performances and more with the coaches and referees every day, utilizing the camp as a practical application of the coach development process.
"Coaching the Whites in this high performance environment was a tremendous developmental opportunity," said Danielle Miller, 2006 World Cup veteran and current USA U20 Head Coach. "The players and the coaches grew together throughout the week and it was a great experience for all."
Steinberg spoke of the future of the WNT program: "The goal is to have Eagle assemblies to be focused on performance under high pressure. Both rugby and high performance skills will be developed before the camps at the Eagle Training Centers (ETCs). The centers will be the entry point to the program. New players can apply to attend an ETC, will be assessed by the local Eagle staff, and will have a chance to be invited to the elite summer competition the next year."
According to Steinberg, the Elite Performance Camp will replace the National All-Star Championship as the major selection vehicle for the Women's National team. "The 2013 Summer Performance Camp will be part of a busy summer for the Eagles and will be important as part of the Eagle preparation for the 2014 World Cup in Paris. The USA will host the Nations Cup and we have plans to play another fall tour. The development of these elite competitions will mean that a player can play in 18 high level games from the end of the 2012 through the end of 2014 as part of the Eagle program."
Eagle Blues
Coaches: Farrah Douglas, Chris Amoratis
Players: Adrienne Acosta, Phoebe Boone, Sylvia Braaten, Stacey Bridges, Lisa Butts, Erica Cavanaugh, Lucy Croy, Kate Daley, Alicia Gillberg, Tiffany Gjestvang, Valerie Griffeth, Emily Jones, Ashley Kmiecik, Rose Miesner, Ashley Mulford, Deven Owsiany, Diana Peng, Rachel Primo, Naima Reddick, Christy Ringgenberg, Megan Sanders, Liz Snodgrass, Kittery Wagner, Sarah Walsh, Sarah Wilson, Annie Zeigler
Eagle Reds
Coaches: Rich Ashfield, Tina Nesburg
Sadie Anderson, Kristin Bonomo, Francine Bray, Anna Brown, Emilie Bydwell, Sarah Chobot, Melanie Denham, Katie Dowty, Victoria Folayan, Kelly Griffin, Nick James, Amanda Kingzett, Joanna Kitlinski, Jenny Lui, Kaelene Lundstrum, Cristina Mastrangelo, Deanna McGillivray, Laura Miller, Lauren Poole, Elizabeth  Trujillo, Emily Van Gulik, Katherine Weber, Jessica Wooden
Eagle Whites
Coaches: Danielle Miller, Kelly Seary
Baylee  Annis, Tonya Ansel, Katy Augustyn, Akalaini Baravilala, Libby Berg, Sharon  Blaney, Rebecca Brafman, Lauren Daly, Amy Daniels, Elizabeth Fierman, Molly Kinsella, Tess Kohanski, Lynelle Kugler, Vanesha McGee, Cassidy Meyers, San Juanita Moreno, Samantha Pankey, jillion potter, Andrea Prusinski, Ashley Sorensen, Hannah Stolba, Shaina Turley, Ashleigh VanDriesen, Caroline White, Eli White, Jamie Zarembinski